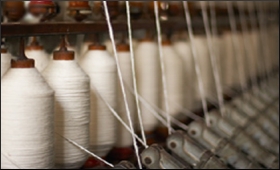 High cotton yarn prices have been negatively impacting the textile industry despite several measures taken by the government for the sector, said Minister of State for Textiles, Panabaaka Lakshmi on Thursday.
In a written reply to the Rajya Sabha, the minister said that the cotton yarn is the main raw material for the weavers and rise in the price of cotton has been a matter of concern for the weavers all over the country.
The minister further stated that the centre is implementing a number of schemes for overall development of the handloom sector in the country.
In Tamil Nadu, the handloom cloth sector has not been affected to a great extent by costly cotton, Lakshmi said.
Mentioning the measures taken by the government to curb high prices of cotton yarn, the minister pointed to capping of cotton exports and cotton yarn exports, withdrawal of duty drawback on yarn, and cancellation of DEPB incentive of 7.67% on cotton yarn exports
She said that hank yarn obligation is expanded from 40s counts to 80s counts and stringent checking measures are imposed on hank yarn obligations on spinning mills.
Also, Lakshmi added, the Cotton Yarn Advisory Board is constituted to monitor domestic and international prices of cotton yarn.
(Source: http://smetimes.tradeindia.com/smetimes/news/top-stories/2011/Mar/04/high-cotton-yarn-prices-hard-on-textile-sector53300.html)