Expectations that China is gearing up to release a massive stockpile that has propped up the global market for the past two years are weighing heavily on cotton prices.
Beijing is expected by the end of the year to start selling off bloated cotton reserves that have kept domestic and international prices artificially high, stimulated planting of cotton internationally, and starved Chinese textile mills of raw material.
China's state reserves bureau is sitting on an enormous stockpile estimated by the US Department of Agriculture this summer at 10m tonnes, or 60 per cent of world stocks, which it bought at relatively high prices. So far this year, it has purchased 1.08m tonnes of cotton as of the end of October.
China National Cotton Reserves Corp announced last week that it would comply with policy released in early October by the National Development and Reform Commission, the country's top economic planning agency, calling for "improving regulation of the cotton market" and "preserving supply of funds for purchasing".
That led to speculation that the bureau could start to unload its inventory as early as this month, once itspurchasing programme is done.
Chinese traders have been closing out cotton positions on the Zhengzhou Commodity Exchange on expectations a release from the reserves will send domestic futures tumbling.
Cotton futures on Nymex in the US dropped to their lowest level since January on Monday, hitting $75.94 per pound, and have fallen nearly 10 per cent since October 17.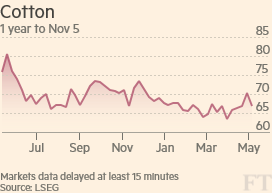 China's state reserves bureau has sown disarray in domestic and international cotton markets over the past two years by buying cotton at higher-than-market prices.
Although the reserves bureau in theory guarantees sufficient domestic cotton supply for China's labour-intensive textile industry, its inventory has piled up as textile mills refused to pay high prices at its auctions, while the bureau refused lower prices for fear of incurring politically damaging losses.
Direct cotton imports by mills are limited by a quota system, so many opted instead to buy imported cotton yarn.
In addition, the high prices it created have become one more factor pushing Chinese textile bosses to set up mills in lower cost markets such as southeast Asia or Bangladesh.
The Chinese finance ministry had to bail out the reserves bureau less than a decade ago when it bought international cotton at high prices and then sold at a loss in the domestic market, and is said to be particularly impatient with the latest fiasco.
Policy makers have floated the idea of directly subsidising cotton planting rather than buying up reserves at high prices – a switch that could make cotton grown in China more affordable to local textile mills, reducing their purchases from abroad.
However, unwinding the bureau's enormous stocks would pressure domestic prices so much that farmers might switch to more lucrative crops, boosting the potential cost of planting subsidies.
China's state reserves system also has powerful backers. Reserves purchases are weighted towards cotton grown in Xinjiang by the Xinjiang Production and Construction Corps, a state-owned, quasi-military body that farms vast stretches of China's Central Asian frontier.
Without those purchases, the cost of transportation would make Xinjiang cotton too expensive to compete with imported cotton or that grown by small farmers in central China.
Source: FT.com